Global Economic Outlook | The Conference Board
LINKEDIN
EMAIL
TWITTER
FACEBOOK
Share
Global Economic Outlook
JULY 2020
Click on the chart to browse forecasts by country and region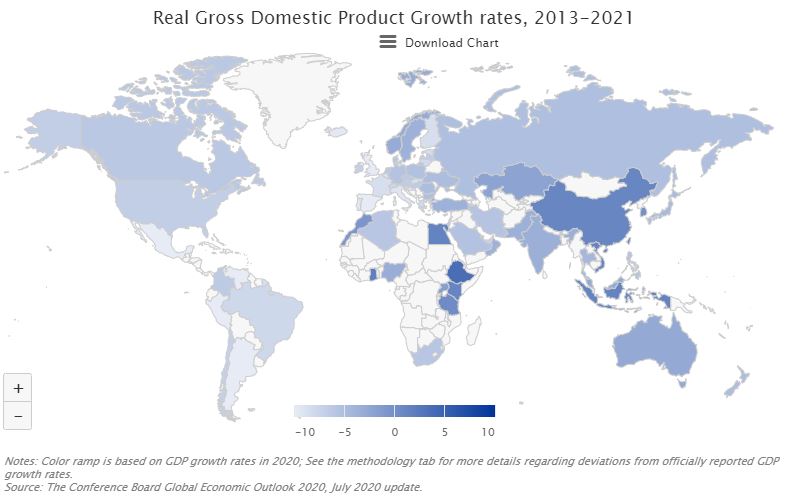 An unprecendented drop in global GDP sets the stage for a slow and uneven recovery
The COVID-19 pandemic has radically changed the prospects of the global economy for the short-, the medium- and potentially for the long-term. In the short-term, as governments throughout the world introduce stringent measures limiting physical mobility and social activity to slow the spread of the virus and avert a health crisis, economic activity seriously contracted. This is leading to an unprecedented decline in global GDP during the first half of 2020. Rather than seeing a quick v-shaped recovery, the outlook assumes a more u-shaped pattern. The Conference Board currently estimates global GDP growth to fall at -4.5 percent for 2020 compared to 2019, which is an unprecedented decline for the post WW-II period. Medium-term, global GDP is expected to return to its pre-COVID-19 levels only by mid-2021, but for mature economies it is likely to last at least until the end of 2021 before output is fully recovered. Longer-term, beyond 2021, the outlook for the global economy is highly uncertain, and we have removed the 5- and 10 year outlook until The Conference Board Global Economic Outlook model will be fully recalibrated over the Summer.
For members
To explore the Global Economic Outlook data, use the online data tool (including an option to download the data in excel format) available here.
Are you interested in getting in touch with our researchers behind the GEO model? Do you need someone to review your own growth model? If you would like to get in touch with us, please send an email to ted.geo@conference-board.org.
Publications (2019 release)
Past publications (2018 release)
Next update
The next full release of the Global Economic Outlook (including new decadal projections) is scheduled to take place in October 2020.